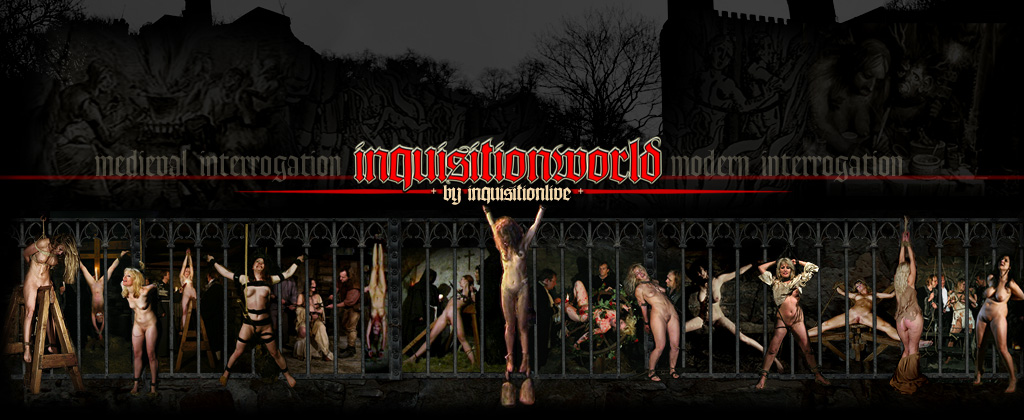 Welcome to Inquisitionworld
MEDIEVAL INTERROGATION OF WITCHES

The InquisitionLive Interrogatio videos are dedicated to bringing to life the actual medieval witch trials while remaining faithful to the real trials which occurred in medieval times.

Our endeavors began almost 20 years ago as a hobby of our founder and a few friends. However, over time, our hobby has become the expression of a certain type of BDSM which hasn't been duplicated. Our videos incorporate the most beautiful actresses (witches) and best actors (inquisitors) that have ever taken the stage. Our productions are a must for every connoisseur."


"These medieval witch interrogations are historically accurate and will arouse you like nothing before!"

GIRLS IN PRISON - EROTIC HORRORS

The series "ModernPrison" (also "Modern-Inquisition" / "Modern-Interrogatio" expands upon the traditional "women in prison" and "women being trapped" movies from the early 70's and 80's and erotic horror movies at all. However, we take it to the extreme. Any true connoisseur of women in prison movies or psychological erotic horror movies will be happy. We do not just film BDSM-sessions, our movies are much more, they are story-based and will awaken your dirtiest fantasies.

"You will always remember how these girls have suffered by the most severe punishments!"

Enter the ModernPrison Website:

Some legends about the perverse debauchery and dark machinations of nobility during the Middle Ages have survived to this day. Hardly anything was handed down exactly, because the unspeakable happened only in secret. Behind the massive walls of the castles and remote estates the excesses remained hidden from the peasants. But every now and then it happened that a lonely wanderer heard the wailing of the chastised maids and female slaves coming out of the walls at night. Or was it screams of lust? This is how rumors spread, which became stories that are still told today. Tales of the "Countess of Tears" - they are called the "Bathory Tales"...

"Fascinating stories about the depths of pain and passion. Women torment women much worse than men."

Enter the Bathory-Tales Website:

OUR MOVIES ON DVD

If you prefer to watch our videos on DVD, you can order them in our online store. We ship international and 100% anonymously.

Order our DVDs here:

or click HERE to watch some trailers first:






18 U.S.C. 2257 Record-Keeping Requirements Compliance Statement

All performers were at least 21 years of age at the time of the production of the visual depictions in this site. The records required by 18 U.S.C. 2257 with respect to visual depictions of actual sexually explicit conduct are kept by M.Kolsche Services, NL [email protected]
Copyright © 2001- 2023 by M.Kolsche Services, NL. All rights reserved. All material on this site, including, but not limited to images, illustrations, audio clips, and video clips (collectively the "Material") is protected by copyrights owned or controlled by M.Kolsche Services, NL UNAUTHORIZED COPYING, REPRODUCTION, REPUBLISHING, UPLOADING, DOWNLOADING, POSTING, TRANSMITTING OR DUPLICATING OF ANY OF THE MATERIAL IS PROHIBITED.